Horsepower is the glamorous number for automotive performance, but car shoppers often overlook another under-the-radar statistic for their vehicle: torque. When it comes to hauling and towing, or even measuring your power off the line, torque is certainly worth paying attention to at our Jeep dealer serving Canton.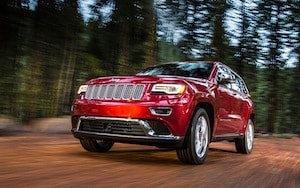 The editors at AutoGuide.com know the value of torque as well, which led to a recent power ranking for "American Cars with the Most Torque." Divided by segment for the most accurate reviews, the Jeep Grand Cherokee SRT trim took the top spot on the SUV rankings for this authoritative list.
Our full-size SUV is capable of a whopping 465 lb.-ft. of torque on the SRT trim, generating loads of power from a race-inspired 6.4L V8 engine. Sports car performance may be difficult to imagine within the heart of an SUV, but easy to believe at the sight of a 5,150-pound vehicle jumping from zero to 60 mph in just 4.8 seconds.
Unrelenting Power at Our Jeep Dealer Serving Canton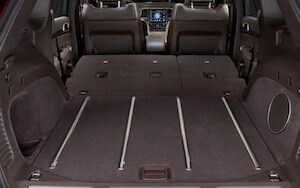 This type of power is great for moving people or hauling cargo, which are both simple within a spacious and versatile interior cabin. The entire interior takes hints from a race-inspired look and design, including advanced technology and premium fabrics and materials throughout for an authentic feel.
Design is also a key principle on the exterior, with sleek alterations to the already bold Grand Cherokee look. As you can see with a test drive at our Jeep dealership serving Canton, blackened accents in the grille and headlights pair with aggressive metallic wheels for a powerful look.
The SRT trim is at the top of the line, but worth the look for drivers with a true desire for unparalleled performance in their SUV. For more information on the 2015 Jeep Grand Cherokee at our Jeep dealer serving Canton, please contact the Wally Armour sales team at (888) 689-9957!